Hello there, beautiful!
Yes, you! :)
I'm so excited to be here and to share my thoughts with you. :)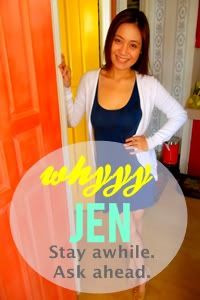 I
love
food. It's pretty obvious from the photos I post of my meals in my
blog
, in
Twitter
, and in
Instagram
, like it's
something needed to be documented,
like my
life depended on it.
Hahaha! I just like posting those human creations. I love how they were made and served (because I cannot cook to save my life).
I seldom go to restos that offer buffet meals because I'm trying to
stay in budget
--and well.. in my pants. My family and I go on huge meals just for special occasions--like my brother's birthday!
Here are some tips I can share.
I actually typed
"wear loose clothing."
and I realized that that isn't a nice tip because you'll end up eating a whole lot more than you really can. When you know that your normal fitting top is starting to feel tighter, then you might just watch how much you've eaten already.
Rice, juice, and iced tea
--or carbs in general--
are little tricks of restos for you to get full quickly and not be able to eat the more expensive dishes served. Rice has a lot of carbs and the drinks have sugar so it's really a good choice to stay away from those. Isn't it more fun to have sushi (for example) because it takes so much time to make at home? You can easily pick from different kinds without the hassle of making them yourself.
If you saw them serve fries,
skip on that.
You can easily (
and cheaply
) buy awesome fries at McDonald's. Since you're paying good money for the buffet, better have the bacon asparagus and oysters.
The mentality of finishing of everything on the menu is not good especially if you already feel full.
You don't have to eat everything laid for you.
It won't be enjoyable once you just eat because you think you're expected to.
Doing squats will start up your metabolism. That will help in digesting all those yummy dishes. Do it in the comfort room. ;)